Epoxy Garage Floors by
Total Concrete Coatings & Polish
Are you looking for the best epoxy garage floors in the Fayetteville area? If so then you have found the right place! Total Concrete Coatings & Polish's epoxy garage floor system is superior to other epoxy garage floors. Our epoxy flooring is the floor you will want to protect and enhance the value of your Fayetteville home. Unsightly damage and cracks, that you have acquired over the years, will be repaired and covered by a beautiful, and durable epoxy garage floor that will last you many years, even decades without any additional maintenance - GUARANTEED! Let our professional installers finish your garage floor in just one day.
Epoxy garage floors are NOT all created equal! Only Total Concrete Coatings & Polish can install beautiful, durable, epoxy floors fast, and guarantee it will perform for years to come, including wear! We have tons of experience installing epoxy garage floors and lots of happy customers. Therefore, you can't go wrong with Total Concrete Coatings & Polish epoxy flooring.
OPTIONS FOR EPOXY GARAGE FLOORS
METALLIC EPOXY GARAGE FLOOR
High-quality metallic epoxy garage flooring can completely transform the look of your garage or other living spaces and adds lots of value to your home. Spectacular effects can be accomplished with metallic epoxies that can imitate marble, lava flows and much more. You are only limited by your imagination.
Don't know what metallic epoxy is or how metallic epoxy is going to work for you? Our goal is to enlighten you on the material, the process of installation and what you can expect from your metallic epoxy garage flooring after it has been installed. Allow us to tell you why metallic epoxy is one the best epoxy flooring solutions you can have..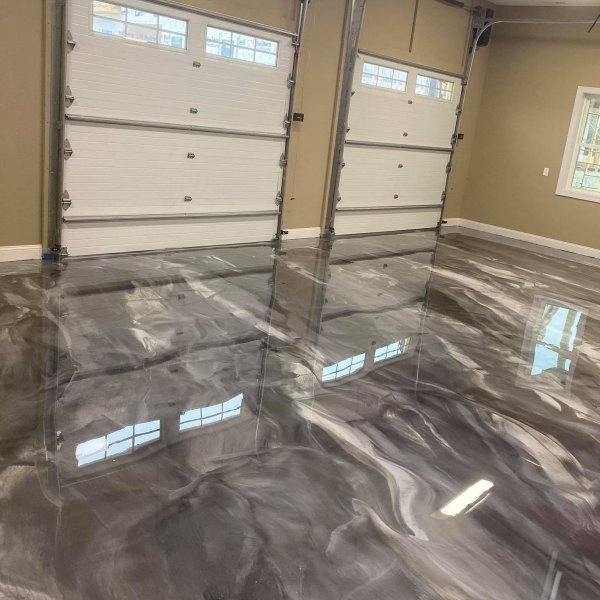 EPOXY FLAKE GARAGE FLOORS
While there are virtually an unlimited numbers of colors you can design for your home, we have some tried and true colors available. Our "standard" color selections literally make about 98% of our clients happy. We have seen trends change some, however these basic colors seem to work for most jobs. Still if you desire we can even add a little character or another color to these existing colors for personalization personalization of your epoxy flake floor.

If you still don't see something that you like we can create just about anything you can come up with. Contact us or ask us when we are at your home to create your own custom blend. We have added college colors, metallic flakes, and even glitter to customize garage floors.
The color and coverage are always even when the colors are already blended together prior to arriving at your jobsite. This way we can quickly and evenly create the floor color and texture that you desire.
CONTACT US NOW TO BEGIN YOUR GARAGE FLOOR JOB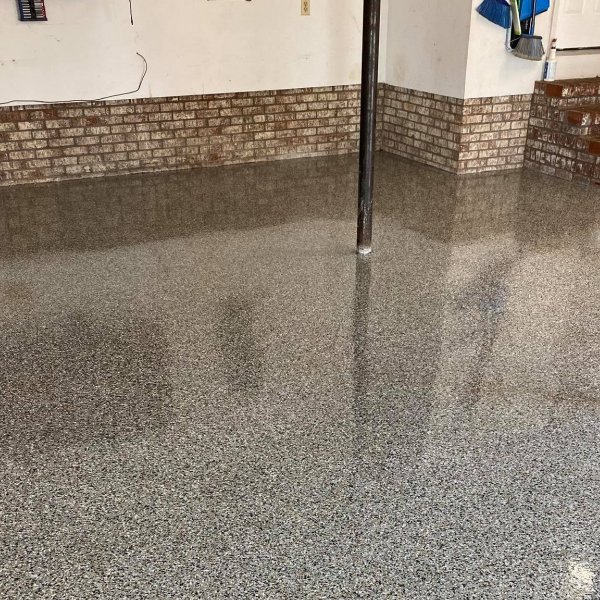 An Epoxy Garage Floor Is A Solid Investment
One of the best investments you can make in your Fayetteville home is creating an epoxy garage floor. When you consider the fact that the garage is likely the largest room in your home making this improvement makes total sense.. Additionally, for most of us, it's the first room we seen when returning home. We are confident you will agree that for the money, you cannot find a bigger impact project in your entire home.
When you look at the cost of garage cabinets or organization systems, you will quickly approach the cost of an epoxy garage floor. Doing these types of improvements will often even exceed the price of a professionally installed garage floor. Besides, when you clean out your garage in preparation for the floor installation, you'll be amazed at how many items really don't need to go back into your garage!. Our customers often conclude that installing an epoxy garage floor is one of the most cost efficient improvements that they can make to increase the value of their home.
LET'S MAKE YOUR DREAM GARAGE FLOOR A REALITY